ok so some of you may have heard me mention this project and some may have seen us trying it out this evening. basically i love the Legends of the Old West rules and wanted to write my own expansion to allow the rules to be used for the Deadlands setting.
so fast and fun system for battling rival posses using every thing from gunslingin to crazy mad science and magic. also as posses onle contain at max 16 models its also quite cheap to put together a force.
Rules Version 1.2
Roster Sheets
those are the work in progress rules (note i haven't written up either hired guns or legends yet but there coming soon). also please excuse the spelling errors i know there in there.
here are some of the gangs iv done so far
Texas Rangers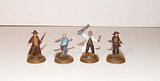 The Blessed